I was born to Beryl Constance Birti (nee Stow) and John (Armando) Birti at Gardenvale on the 7th May, 1954. These photos of Mum and Dad were taken exactly 2 years before I was born, on the 7th May, 1952. As you can see these photos are only proofs. Mum tells me that it was too expensive to have the photos done so all we have is the proofs. Nevertheless I think they are lovely photos and they certainly made a handsome couple. When I was about 14 months old we moved to East Bentleigh. One of Mum's brother's (my Uncle Jack), had previously moved to East Bentleigh, despite advice to the contrary as it was "out in the sticks" and full of cows and paddocks and would never be anything. For those of you who are familiar with East Bentleigh now, it's hard to imagine it was ever anything but a densely populated suburb. When we moved there, most of the roads were still unmade. I can remember when they went through and made the roads - I think I must've been about 5 years old - and at one stage all the traffic went down our street and it was extremely dusty. We also had an outside toilet down the back yard but very early in the peace we had a brand new flushing toilet installed on the back verandah next to the laundry.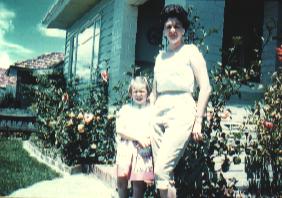 We had the best looking house in the street - beautiful standard roses along the front fence and lots of colourful flowers. This is the best colour photo I can find of our house. That's Mum and I in the photo - unfortunately due to the sun and shadows Mum's nose looks rather bulbous to say the least - it didn't really look like that. Our house was in Becket Avenue which runs south off Centre Road between Tucker and East Boundary Roads. My maternal grandmother also lived in East Bentleigh in Francesco Street which was well within walking distance from our house.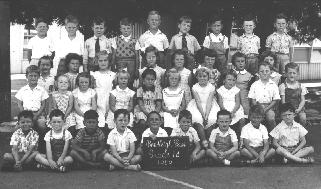 Here are my first and last school photos. I was four and a half years old when I started school. Even though the board in the photo shows Grade 1 - it was actually "bubs", not "prep" as it's called these days. In this "bubs" photo I am in the second row from the front, third from the left, and looking rather glum I think.Something I remember well from my early years at Bentleigh East State School is that my granny (maternal) used to come to school every day to give me lunch (Mum worked all throughout my school life), sometimes even a hot lunch. We'd go and sit on the seats outside the shops next to the school to have lunch. I also went to Granny's house every afternoon after school and my parents would pick me up when Mum got home from work. A lot of times Granny would also cook tea for me - she was a beautiful cook. I just remembered something funny. One night she brought my tea into the lounge where I used to eat watching telly and this particular night I was prancing around with my plate held high in one hand pretending to be a waiter. You know what I'm going to say next don't you - yep, I dropped it and it splattered all over the floor. I remember crying and going into the kitchen to tell Granny. She was most alarmed to see me crying and then relieved to learn I was crying only because I dropped my dinner. Without any fuss at all she went in, cleaned it all up and all was well.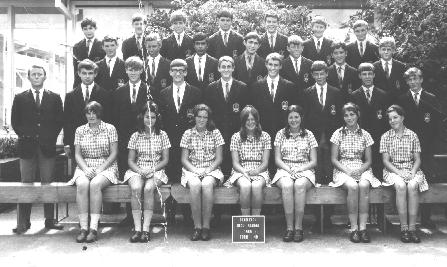 This was my last year at school - Bentleigh High, the year was 1969. In this one I'm seated on the far left. It's surprising how many names I can remember from both of these photos. I stayed in touch with the girl third from the left (Janet) for many years after school and I ran into her about 2 years ago, of all places, at a family day at the Hawthorn Football Club. She was there with her son. By this time in Form 4 (year 10) I hated school. I was only an average student and just wasn't interested because all I ever wanted to do was secretarial work, not study geography and all those branches of science. The thing that got me into trouble most in high school was laughing. Whenever we were told off by a teacher I'd be going red trying to suppress a laugh and then my friend Janet would mutter something funny (she did it on purpose to make me laugh) and my laugh would just burst forth and I'd get into more trouble. Just by the way, I have since learnt that Data also went to the same school but it had undergone a name change by the time he went there. I left school at the end of 1969 and in 1970 went to Stotts Business College in the city. I loved it there, I was doing what I wanted to do and at last became an excellent student. I got my very first job through Stotts, it was at a finance company and the pay was $27.50 a week!!!